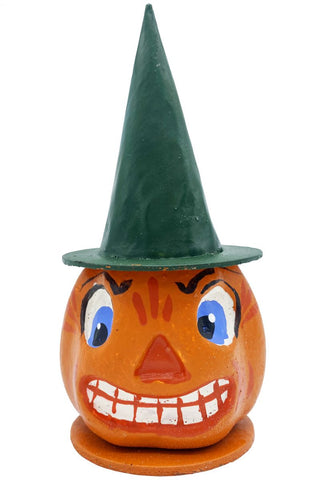 German Papier Mache Jack o' Lantern with Green Hat
Those vintage papier mache candy containers and other decorations that your grandparents and great-grandparents pulled out of the closet each Hallowe'en back in the 1920s and 30s were most likely made by the Ino Schaller Company, a small family-owned company based in Bavaria. They began making hand-molded, hand painted papier mache decorations for the holidays in 1894.
Nearly 130 years later, the family business is now in its fourth generation, and their work is more collectible than ever. As Hallowe'en traditionalists, these sturdy, colorful pieces, together with plenty of pumpkins and candles, are our favorite kind of decoration for spooky autumn nights.
This feisty pumpkinhead is sporting a fine green hat. About 5 1/2" tall x 2 3/4" wide x 2 3/4" deep. Each is unique, so your piece may not look exactly like the one you see here, but it will be close. Handmade in Germany.

Fun Facts: Ino Schaller papier mache figures are all completely handmade, and the process of making each of these figures takes seven or eight days. The initial blending of ingredients to pouring into the vintage two-part plaster molds to the releasing of the figure from the mold: these initial steps require a full three days. On Day Four, the artisan dips the newly made papier mache form in liquid plaster, which creates a thin, smooth white surface on which to decorate the figure, and this requires two days to dry. Then, for two to three days following (depending on the complexity of the figure), the artisan applies layers of paint and glaze. It's during these days that the fine details are painted on as well: things like facial features and scenery. Finally, on the last day, the artisan will apply finishing touches like mica, ground glass and glitter, chenille, and cellulose shavings. Like the originals, these pieces are also traditional German candy containers. They're not meant to hold a lot of candy; just a few small treats––and we don't necessary recommend you use them as such. But the fact is they were originally sold as candy containers and each Ino Schaller figure will indeed have a hollow space inside where candy can be tucked away: it may be through an opening at the top, or it may be that the base may be removed to reveal the hollow. Most people, though, just collect them and use them to add an unmistakably vintage feel to their Hallowe'en and Christmas decorating.
402
---
We Also Recommend