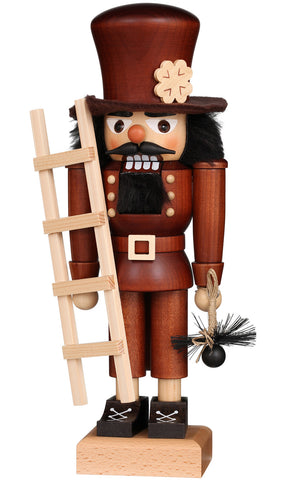 German Nutcracker : Chimney Sweep, Natural Finish
In Germany, chimney sweeps bring good luck... especially if they touch you. Here's a chimney sweep nutcracker you can touch any time you need a bit of luck. Handmade by artisans of the Christian Ulbricht Company; they've been making nutcrackers by hand in Germany's Erzgebirge Mountains, where wooden nutcrackers first originated, since 1928.
This is a working nutcracker (the lever in back operates his jaws), made by hand of solid natural finish woods. The top of Pete's hat is solid wood, too, while the sides are made of felt. His beard and dark hair are lush faux fur. Just about 10 1/2" tall x 5" wide x 3 1/4" deep. Handmade in Germany.

32-628
---
We Also Recommend