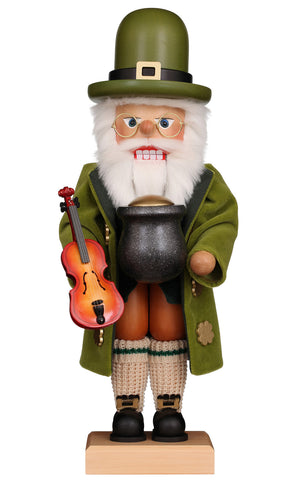 German Premium Nutcracker: Irish Leprechaun
Here's a German nutcracker of Irish persuasion. Our Irish Leprechaun is holding a pot of gold and a fiddle, too, and is dressed in a lovely green coat decorated with gold four leaf clovers... all these special details earns this very large nutcracker the premium moniker. Handmade by artisans of the Christian Ulbricht Company; they've been making nutcrackers by hand in Germany's Erzgebirge Mountains, where wooden nutcrackers first originated, since 1928.
This is a working nutcracker (the lever in back operates his jaws), made by hand of solid natural finish and glazed woods. His beard and white hair are lush faux fur. Just about 20" tall x 8" wide x 7" deep. Perfect not just for Christmas, but also for St. Patrick's Day of course, and for St. Brigid's Day at the start of February, or all year long if you happen to love the Emerald Isle. Handmade in Germany.

---
We Also Recommend