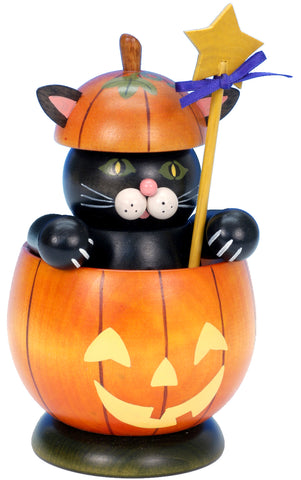 German Incense Smoker: Halloween Cat
PRE-ORDER ITEM: Like a beagle rising out of a most sincere pumpkin patch, here's a black cat popping out of a jack o'lantern, and it just happens to be a handmade wooden incense smoker. The top separates from the base, revealing a metal tray to hold a smoldering incense cone. When you close it up again, the smoke has no where to go but out the kitty's mouth. We'll include a box of 24 autumnal German incense cones, but you may want to buy some extra boxes (we sell authentic German incense cones year round). Handmade in Germany of painted and natural wood by artisans of the Erzgebirge Mountains at the Christian Ulbricht workshop. About 7" tall and 4" wide x 4" deep.
Update September 1, 2023: Inventory Tracker states we have 3 of these incense smokers available. They are available for pre-order. We anticipate delivery to our shop here in Lake Worth later this month and we will ship your order then.  
---
We Also Recommend